I've mentioned before about the importance of Bible memorization. And I'm always interested in finding ways to make memorization an easier process. One such way is by using Bible Memory, an iPhone app from Mobilize Faith.
Bible Memory is an iPhone app that helps you memorize scriptures verse-by-verse. One of the biggest strengths of this app is that it comes pre-loaded with a ton of verses to memorize, all of which have been categorized topically, e.g., strength, love, sovereignty, etc. So the distance between not studying and studying is pretty short. And if you don't find the verse or verses you want to study, you can add your own. To start studying, all you have to do is tap the "Continue Study" button.
Once you've started studying, you'll be faced with all the pre-loaded verses and any verses that you've added yourself. There are about 256 pre-loaded verses, so there's plenty to work with. You can focus on a particular category or choose from the whole set of verses. Once you select a category, you can tap any verse to start studying.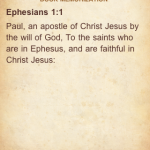 The Study view has three sections: read, review, and quiz. The read section just lets you read the verse. Duh. The Review section breaks the verse up into sections and lets you review certain sections at a time. The section that you're working on will be displayed in bold, while the rest will be normally weighted. Finally the quiz section presents you with the verse, with certain words left out and blank fields in their place. At the bottom of the screen, you can select the appropriate word to fill in a blank field. The quiz takes you through three iterations of filling in the blanks, with each iteration leaving out more words.
The settings are pretty simple. You can set reminders as well as set up email addresses for people who will keep you accountable to your studying. Finally, you can select the Bible version of the pre-loaded verses from the New International Version, New King James, King James, and New American Standard Version.
Two Minor Critiques
I almost don't even want to call it critique, more like feature requests. The first is that Bible Memory does not come pre-loaded with the English Standard Version. But considering that it does come with the New King James and the New American Standard, this is no deal-breaker. The second is that although you can add your own verses from the iPhone, it would be nice to have a way of adding them from the Mac, since it's much easier to get the Bible texts and copy and paste. But this is also no deal-breaker.
Overall Impression
Bible Memory is a great app. The fact that it come with categorized Bible verses makes it extremely easy to start memorizing Scripture immediately. Beyond this, it is not too hard to add your own set of verses. This can be an especially great tool for those who need to focus on a particular topic, such as forgiveness or friendship. It takes a lot of the work out of starting the process of memorization, leaving you to provide the time and discipline.
You can learn more about Mobilize Faith here. Bible Memory is $5.99 and can be purchased from iTunes (link opens iTunes).
Gallary