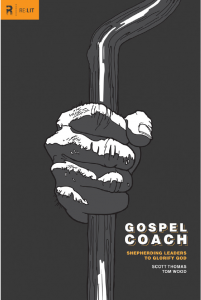 Recently, I finished the book, Gospel Coach by Scott Thomas. Unfortunately, it was only after I had finished reading it that I found out that the copy I had was some sort of draft version in book form. I would have been less confused by the book's lack of polish had I known.
In any case, it was a worthwhile read. Ignoring the occasional awkward wording or typo, I found that the book provided a helpful framework for one-on-one discipleship with the gospel as the central focus. What is most encouraging about Thomas's system of mentoring is that the mentor is always bringing the believer back to the gospel and its implications for life. Rather than leave sin-issues at surface, Thomas encourages mentors to work to help the believer find out what part of the gospel he or is she is failing to believe. For example, a person who struggles with the sin of anger might need to deal with issues of insecurity that stem from a lack of trust in Christ. In identifying that the person needs to trust Christ more deeply rather than just "not get mad," the coach helps to get at the root idol, rather than just surface sins.
Overall, Gospel Coach is a helpful book that provides a systematic way to coach a believer to believe and grow in the gospel.